Concrete Cleaning
&

Sealing Services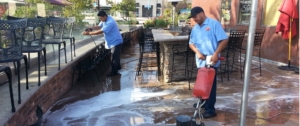 Concrete Cleaning & Pressure Washing offers professional concrete cleaning and pressure washing services in Yorba Linda  CA, California, and the surrounding areas. We work with surfaces and equipment of all kinds and exercise great care to ensure the space is shining clean and any paint, finishes or delicate parts are left flawless.
We serve businesses across Southern California, including  Orange County and Yorba Linda CA. We work with businesses of all sizes, and we tailor services based on your needs, schedule and budget.
If your working with a budget will be more than happy to work with you without sacrificing service.  Concrete Cleaning & Pressure Washing uses state of the art machines and equipment.
Concrete Cleaning Services
Our Services
Whether you need your parking lot scrubbed clean of weeds and dirt, you want your indoor floors and equipment clean of oil and stains, or you want to remove dust, bugs or unsightly graffiti from walls or outbuildings, we can help. Pressure washing cleans deep into surfaces and removes the most stubborn stains, leaving brick, concrete, siding, metal and more looking new again.
Pressure Washing Equipment
We use a range of industrial cleaners and cleaning equipment to get to high up and hard-to-reach places, scrub away resilient stains, and work safely indoors and outdoors. Whatever area, surface or equipment you want cleaned, we have equipment to safely and efficiently do the job.
Concrete Cleaning & Pressure Washing
Contact us today to arrange concrete cleaning and pressure washing services for your building, parking lot, parking structure, warehouse and more.
Got a dingy driveway? Has your roof become streaked and stained? Do you want to restore the natural beauty of your deck or fence? You might need the services of a qualified pressure washing company.
Though pressure washers can be bought by consumers, the machinery and process are dangerous, with water pressure powerful enough to cause serious injuries. The pressure stream can pierce skin and eyes if exposed, so pressure washing machine should be used with extreme caution in any scenario.
Additionally, consumer pressure washers may not deliver the pressure necessary for all jobs. Because these machines can be rented out over and over again, and be destructive and potentially harmful, some consumer machines might be less powerful than expected. You might find out that you can't complete your job or get the result you were seeking.